Self-Care Through the Cycles of Nature
The challenges of finding peace, community, and connection in the modern world are many. In a culture where everything moves quickly, answers are short, and solutions are a click away on our devices, work has taken a center stage. Fortunately, we are beginning to fight against that, looking for a more "balanced" life, whatever that means. People are feeling stressed and ungrounded, a sense of loss, but loss of something we may never have had. There is no surprise that the nature movement has come to counter that feeling. We are recognizing a need to get outdoors, to breathe fresh air, to listen to the birds, and to feel the rain coming down. Even 100 years ago, our ancestors lived more connected to the cycles of nature.

Nature is everywhere! From dandelions coming up in the sidewalk cracks, to forests and hiking trails, nature is there if we take the time to notice. And the great thing about nature is that it does not belong to any one country, culture, or religion; it does not belong to any of us, it is us. We can all find connection and relationship with the nature around us simply by noticing the changes outside and within us as we move through the days and the years. And through that nature connection, we can also strengthen our human relationships.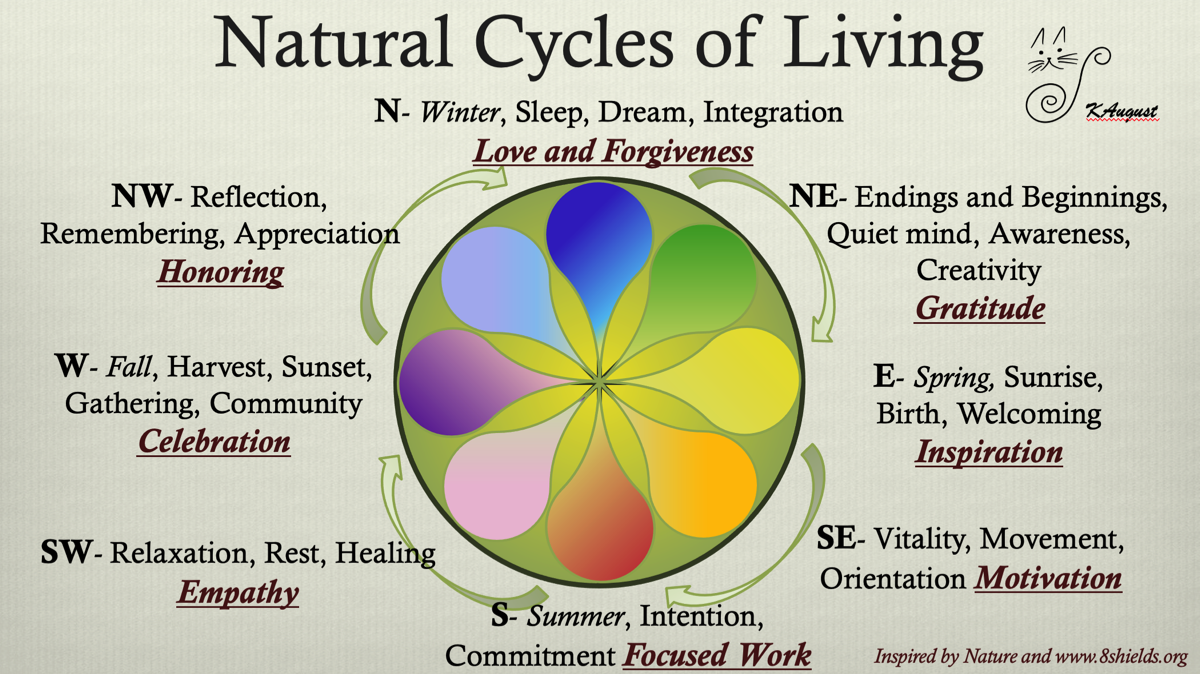 Self-Care Through the Cycles of Nature
is a 9-month online course, starting September 1, that presents a way to step out of the busy work-focused cycle into a more natural flow that includes all aspects of living. Using techniques of mindfulness, nature meditation, "inner tracking", nature journaling, and observations, we can move through the seasons and our lives with more ease and awareness. If you are an herbalist, this approach can deepen your knowledge of the plants. If you are a naturalist, the knowledge of ecology and interconnectedness of life comes to light in this course. If you are someone who loves being outdoors and learning about plants, animals, seasons, weather cycles, and about yourself, Self-Care Through the Cycles of Nature is for you too.

This course creates a low-stress environment where participants can glean as much or as little as they have time and capacity for. We start with observations that enhance awareness. You may notice simple things in the world around you that were hidden before. Incorporating frequent reviews and returning to assignments with different perspectives as we move through the seasons, this course brings together a new way of looking at life through the lens of the natural ebbs and flows of nature.


Click here
to take a quick trip around the cycle.
For a more detailed description of the natural cycle, here is an article I wrote for the journal of the American Holistic Veterinary Medical Association:

Self-Care Through the Cycles of Nature


For more course information,
click here


Self-Care Through the Cycles of Nature began as a course for veterinarians, and if there is interest I would love to provide a class group focused specifically for veterinary professionals.

Individual and small group calls are available to tailor the course and focus on personal goals.

The current class is running Sept 2022-May 2023. Keep a look out for shorter
seasonal classes
coming up!

For updates on next available course offerings and periodic blog updates,
join my e-mail list.


—

This course was inspired by my childhood spent exploring outdoors and my children, who brought me back outside when I needed healing. Along with leading Girl Scouts, hiking, and gardening, I have spent
several years studying the cycles of nature through Village Building and Nature Connection courses with the 8 Shields Institute and the
Wilderness Awareness School
, organizations co-founded by Jon Young, author of the books
Coyote's Guide to Connecting with Nature
, and
What the Robin Knows.
It is lovely to find another outlet for my inner naturalist!